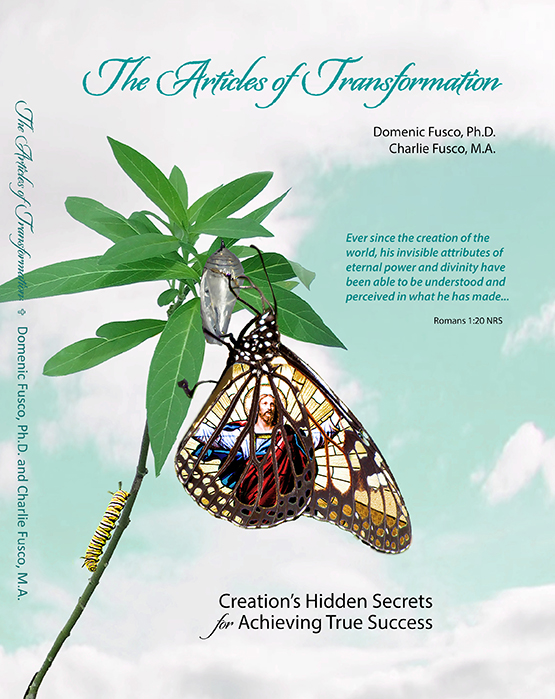 Building a Successful
Ministry, Business or Relationships
Begins by Building a Better
YOU!

The Articles of Transformation, by Domenic Fusco and Charlie Fusco, will take you on a wonderful journey of personal discovery for the purpose of maximizing your potential for true success. God's magnificent creations are your faithful tutors. Exercises included in the Personal Discovery Journal point you toward success as found in God alone.
Small Steps Result in a Giant Leap Toward Success
Most people want to be successful in life, in their relationships, career, or calling, but most don't know how. The Articles of Transformation shares God's plan for living a sccessful life and provides techniques and exercises needed to discover the "what" and "how" for transforming you into your greatest potential.
Character is not bought...
Character is built.
Behind every adventure in achievement there is a story about character. The difference in living a life of quiet desperation or finding gratifying success can be attributed to the possession of, or lack thereof, Godly character attributes. Here is the definition for character:
char·ac·ter \'ker-ik-tər, 'ka-rik-\
moral excellence and firmness
<a man of sound character.>
If there is ONE person in all of history whose character you would desire to emulate, who would that be? Imagine for a moment that you possess the divine power and character attributes of the greatest leader of all mankind: His compassion, knowledge, wisdom, grace, and power. You can!
Discover what all great men and women know about the abundant, extraordinary life.
Enroll in the Articles of Transformation Series FREE.
You will receive a link each week to a lesson and Personal Discovery Download.

Get your copy of the Articles of Transformation book here:

"I have been a training consultant and speaker coach for twenty years. In that time, I have seen hundreds of products and programs designed to elicit transformation. Working with industry giants like Mark Victor Hansen, Jack Canfield, Robert Allen, Bob Proctor and others has allowed me to see many of those products in their developmental stages. The Articles of Transformation are among the handful of those programs that I heartily recommend to actually create the transformation they promise. Domenic Fusco's presentation of the allegorical tales is captivating and his instructions clear."

Janet Gow
Business Consultant and Life Coach
This adventure of self discovery will reveal God's attributes for developing personal success in any endeavor. The knowledge and techniques for transformation can be clearly seen in God's remarkable and diverse creation (Romans 1:20). These incontrovertible.. unchangeable.. indisputable.. infallible truths for personal success will guide you on an adventurous transformational journey. Heaven's storehouse is before you. Apply the fruit of wisdom held within these lessons and the riches of this life, and the life to come, will be your reward and legacy.
Divided into 21 lessons, the series is easily adaptable
for ongoing study group sessions such as:

Domenic Fusco, Ph.D.
and Charlie Fusco, M.A.
provide workshops & training
to enhance your on-going ministry.

• Personal Study
• Home Groups
• Book Clubs
• Church Seminars
• Youth Groups
• Post-Revival Classes
• Couples Retreats
• Prison Ministry
• Missions Outreach
• Pre-marital Counseling
• New Convert's Training
• College and Career Planning
• Seniors Seeking Purpose After Retirement
Domenic and I have successfully worked together as motivational speakers for a number of organizations. I had the good fortune of listening to a complete set of his Articles of Transformation while on a long road trip. I believe his systematic approach to personal growth will build the character attributes necessary to succeed in life: personal and business. These Articles should be mandatory coursework for all high school students. What a way to start out in life!

Paul Morris
VP of Marketing, ExFuse, Inc.
It's All About Building Character.
The series is applicable for everyone, everywhere, at any age. The Articles of Transformation will guide you toward successfully achieving all that God has planned for your life!
Begin Your Journey of Personal Transformation
into God's Greatness Today!